Tripawds is a user-supported community. Thank you for your support!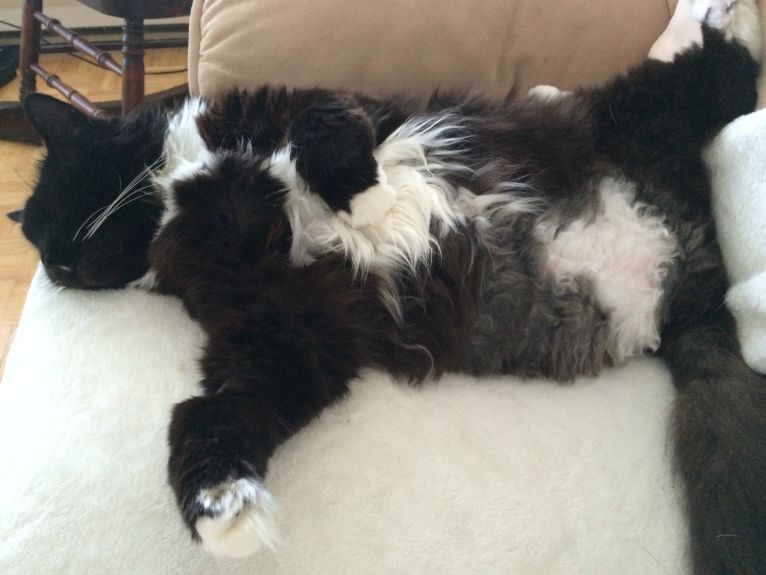 We are extremely happy to report that the oncology Doctor says that Vinny is officially in "Remission". 🙂
Vinny is now 2.5 months post amputation and has had 4 chemo treatments. On Friday he had his chest X-Ray and ultrasound re-checks to examine his internal organs to see if the cancer has spread anywhere. All the diagnostics came back completely normal! This is such welcome news. Since hemangiosarcoma is a blood cell cancer, it can be very metastatic, so I was really worried before this visit about what we'd find. But, the doctors say he looks amazing, and is doing very well. 🙂 YAY!
He has a different issue that we've been working on pinning down down for a while now. It's the lip thing he had in my last post. It went away and came back twice since then. Since it has been somewhat responsive to antibiotics, so we're hopeful that is a sign that it is not a new cancer. It is not consistent with hemangiosarcoma, but we can't completely rule out a new type of cancer until we know more. But more likely, is an pesky infection of some kind or an autoimmune disorder called eosinophilic granuloma complex, which can be treated successfully with steroids and a hypoallergenic diet. While he was sedated for chemo, we took a biopsy from the affected part of his mouth, so we could get a definitive answer and decide what to do about it. It should take a week or so for results. The positive thing is that it hasn't affected him in any way and he is eating and drinking completely normal. I actually think he is feeling better than ever, and he is extra cuddly and more comfortable in this cooler autumn weather. His mobility as a tripawd is amazing and he has no problem now getting up just about anywhere he likes.
Two more chemo treatments to go – Next one in three weeks. I'm just so relieved now after his diagnostic re-checks, that I know we can handle anything. 🙂 Every time we go to the vet, I am just so thankful when we get home healthy and happy, together again. 😀